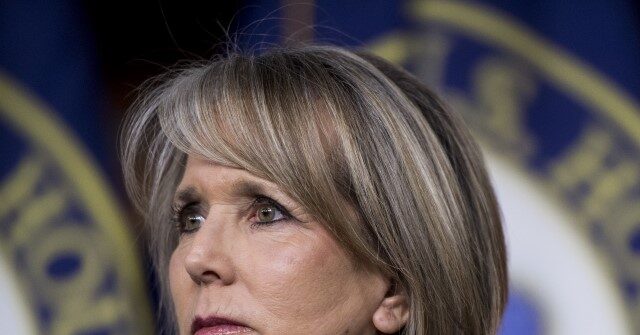 Gun Owners of America (GOA) secured a temporary restraining order Wednesday against New Mexico Gov. Michelle Lujan Grisham's (D) ban on concealed carry.
GOA announced the decision via X:
🚨BREAKING🚨

GOA and @GunFoundation have received a Temporary Restraining Order against New Mexico Governor's tyrannical firearm carry ban.

This is a win for all gun owners in New Mexico and sends a clear message to all anti-gun states—Shall NOT Be Infringed.👏

— Gun Owners of America (@GunOwners) September 13, 2023
Breitbart News reported that GOA filed their lawsuit in a U.S. District Court against Grisham's order on Sunday, two days after the ban was announced.
At that time, GOA executive vice president Erich Pratt told Breitbart News, "Gun Owners of America has filed a federal lawsuit challenging Governor Michelle Lujan Grisham's gross and egregious violation of the U.S. Constitution. Her claim that there are 'exceptions to the Second Amendment' is not only wrong, but it also blows open a huge hole in the Bill of Rights. GOA will not rest until the rights of New Mexicans are restored."
For now, the temporary restraining order is an oral order. More coverage on the decision will follow as more information is released.
AWR Hawkins is an award-winning Second Amendment columnist for Breitbart News and the writer/curator of Down Range with AWR Hawkins, a weekly newsletter focused on all things Second Amendment, also for Breitbart News. He is the political analyst for Armed American Radio and a Turning Point USA Ambassador. He was a Visiting Fellow at the Russell Kirk Center for Cultural Renewal in 2010, a speaker at the 2023 Western Conservative Summit, and he holds a Ph.D. in Military History, with a focus on the Vietnam War (brown water navy), U.S. Navy since Inception, the Civil War, and Early Modern Europe. Follow him on Instagram: @awr_hawkins. You can sign up to get Down Range at breitbart.com/downrange. Reach him directly at awrhawkins@breitbart.com.