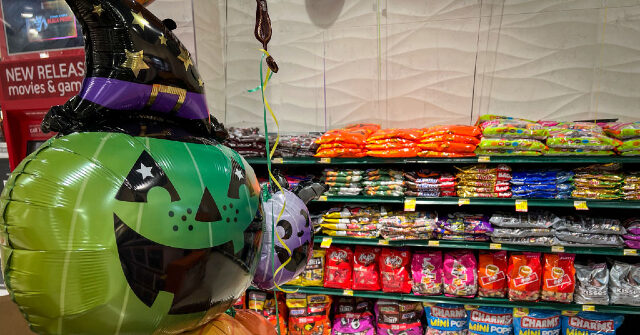 U.S. consumers are dealing with double-digit Halloween candy inflation for the second year in a row, with prices being an average of 13 percent higher this month compared to last October.
Retail price tracker Datasembly's latest Grocery Price Index, based on "data collected from over 150,000 stores that represent 200+ retail banners" across the nation, revealed the spooky numbers on October 11. The index shared that sweet treats inflation "over-indexes the entire Grocery category at 6.7 percent for the same time period."
According to the tracker, high inflation drove a national increase of 19.9 percent last year across the "Candy and Gum" category, so an additional 12.8 percent increase from October 2022 through October 7, 2023 "makes for more of a trick than a treat for consumers."
This is on top of a 13.1 percent increase in candy and gum prices in October 2022 from the year before, Breitbart News reported last October using the Bureau of Labor Statistics. It was the highest increase ever recorded.
"The price of candy has gotten to be outrageous," said Jessica Weathers, an Illinois small business owner to ABC News. "It doesn't make sense to me to spend $100 on candy."
Weathers said she usually buys a hefty load of candy for trick-or-treaters as well as for school and church events around this time of year but was only able to purchase two bags this time around.
Data from market research firm Numerator shows that about one-third of U.S. consumers will switch to off-brand treats from the popular, more expensive ones this year.
"Weather is the main culprit for the higher prices," business writer Dee-Ann Durbin said. "Cocoa prices are trading at 44-year highs after heavy rains in West Africa caused limited production in the season that began last fall. Now, El Nino conditions are making the region drier and are likely to linger well into the spring."
Dan Sadler, principal of client insights for market research firm Circana, warned that there "may be no price relief in sight, at least through the first half of 2024."
Kelly Goughary, a senior research analyst at agricultural analytics firm Gro Intelligence, told the outlet that the West African country of Ivory Coast, which produces around 40 percent of the world's cocoa, is preparing to undergo one of its worst droughts in 20 years.
Global sugar prices are also spiking with 12-year highs, Goughary said. After monsoon rains hurt the upcoming harvest, India, the world's second-largest sugar producer after Brazil, recently banned sugar exports for the first time in seven years. Thailand's output is also down, ABC reported.
These factors all contribute to rising candy prices around the world and in the U.S.
Aldi, which is marketed as a discount grocery chain, is selling a 250-piece variety pack of Milky Way, Twix, and Snickers candy bars for $24.98 when it was sold at just $19.54 two years ago.
ABC reported that chocolate giant Hershey is also pushing up their prices:
Hershey Co. — which has raised its prices by 7% or more in each of the last seven quarters —acknowledged this week that higher prices are taking a toll on demand. Hershey's North American confectionary sales volumes fell 1% in the July-September period.
"We know that value and affordability continue to be top-of-the-line for consumers as budgets are stretched," Hershey President and CEO Michele Buck said Thursday during a call with investors.